Two suspected gunmen are dead in a chaotic shooting scene at a college in downtown Montreal that has left three people in critical condition.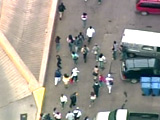 160_montreal_shooting1_0609.jpg, image/jpeg, 160x120
hots fired at Dawson College in Montreal

Updated Wed. Sep. 13 2006 2:31 PM ET

CTV.ca News Staff




"Government sources are saying two of the gunmen are dead," said CTV's Jed Kahane, reporting from Montreal. "One may have taken his own life, the other was shot by police."

Kahane said police received a call about the shooting at just before 1 p.m. ET. There were questions about whether a third gunman was also involved.

Dawson College is located at the corner of Atwater and Sherbrooke in the heart of downtown Montreal.

Students told Kahane they saw someone roaming the halls with a gun, and heard at least 20 shots fired.

One student told Montreal radio station 940 News she was on the phone at the college's front entrance when she heard five gunshots and a window break. She walked into the hallway and was inches from the gunman.

"All of a sudden I turned around and saw a man dressed in black with a huge assault rifle," she said.

"People didn't know what was going on ... they thought it was a joke."

The man ran into the corner of the cafeteria to hide from police, she said.



A number of officers surrounded the school with guns drawn, while others helped to evacuate students from inside the English-language CEGEP school which houses about 10,000 students.

Some students and teachers have barricaded themselves in classrooms, and are waiting for police to rescue them from the school.

One woman called 940 News from a lab on the seventh floor, where she is holed up with as many as 40 students and one teacher.

"We're in the lab, which is on the seventh floor, and we're waiting for police to come and get us," she said.

"We've locked the doors and we've sealed it with the tables. We're still scared. Everyone's been evacuated, except us."

One student told 940 News she saw two people who had been shot, including one who had been hit in the neck.

The student said a friend told her four people had been shot.

Michel Boyer, a student at the college, told CTV Newsnet he saw the gunman in a hallway leading to the cafeteria.

"I saw the gunman who was dressed in black and at that time he was shooting at people. It was probably one of the most frightening moments of my life," Boyer said.

Images captured from a helicopter hovering over the scene showed hordes of students running frantically from the building.

"Many people are crying as they are coming out, worried about who might still be inside the building and shocked by what happened," said CTV's Genevieve Beauchemin, reporting from the scene.

A number of police vehicles surrounded what appeared to be a bloodsoaked sidewalk outside the school, and several yellow ambulance vehicles were seen speeding from the scene after victims were carried from the building on stretchers and loaded in the vehicles.

All classes at Dawson College have been cancelled.

Today's incident is horrifyingly reminiscent of another school shooting in Montreal. On Dec. 6, 1989, Marc Lepine shot 27 female engineering students at the Ecole Polytechnique, killing 14, before fatally shooting himself.

The mass murder prompted tighter gun laws, which included the creation of the controversial national firearms registry. It also prompted Parliament to create the National Day of Remembrance and Action on Violence against Women in 1991, to coincide with the anniversary of the tragedy.
www.ctv.ca/servlet/ArticleNews/story/CTVNews/20060913/montreal_shooting_06091...